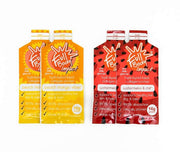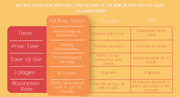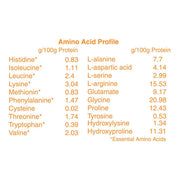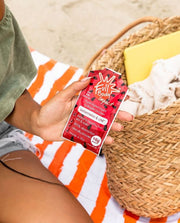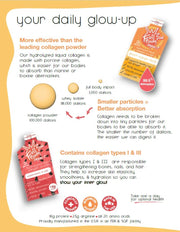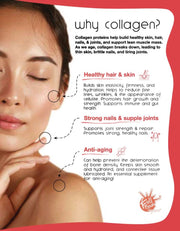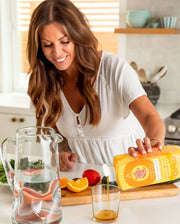 trial pack 1oz packets (2 of each flavor)
sugar-free 4 1oz packets
Not sure which flavor is going to be your fav? Try a shot (or two) and see which you like best with our trial pack. You will get two (2) 1oz On-the-Go Packets of each flavor. Full Body Impact provides 16,000mg (16 grams) of medical-grade collagen protein peptides (types I and III) per serving with a 99.5% absorption rate, which means your body will absorb and use all 16 grams in just 15 minutes. Our protein particles are broken down to around 3,000 daltons making it easier for our bodies to digest & absorb while the leading powders are around 300,000 daltons in size!! This makes our collagen far more absorbable and effective than all the collagen powders & pills on the market! No more wasting your money on said powders & pills. Enjoying collagen has never been easier! Take a shot and move on with your day. No mess. No fuss. Just chill. See why thousands have already switched. Come be part of the new, BETTER FOR YOU liquid collagen trend!
Quality is in our bones at Full Body Impact! We craft our supplements with medical-grade collagen and our packaging is BPA and BPS free.
16g of protein per serving
provides all 20 amino acids
clinically tested & proven
Product Info

they say you are what you eat, so you must be looking at enhancing your already radiant energy with our lush peach mango vibes™ liquid collagen. show your glow with our clinically-proven hair, skin & nail, and bone & joint supplement. 

who said that you needed sugar to be so sweet? our sugar-free & keto style liquid collagen tastes great without all of the nasties and additives you get from fly-by-night competitors. we sourced kosher, medical-grade porcine collagen, which has a higher absorbency for us humans than bovine and marine proteins. 

enjoying your daily dose of collagen is easy with the 1oz on-the-go packets. Keep a few in your gym bag, office, or kitchen for your daily routine.

secret technique: add a 1 oz. shot of FULL BODY IMPACT to a cool glass of water or your favorite sports drink. swish it a little and enjoy it as you start your daily routine. 

servings:

size:

storage:

ingredients:

how to use:
See how fast, easy, and completely it mixes! No clumping! No mess!